Dahl met zoete aardappel, spinazie, gember en rode linzen
Ingrediënten
1 ui

1 grote zoete aardappel

1 blikje kokosmelk (125 ml)

10 gr pompoenpitten

curry poeder

200 gr spinazie

olijfolie

Peper en zout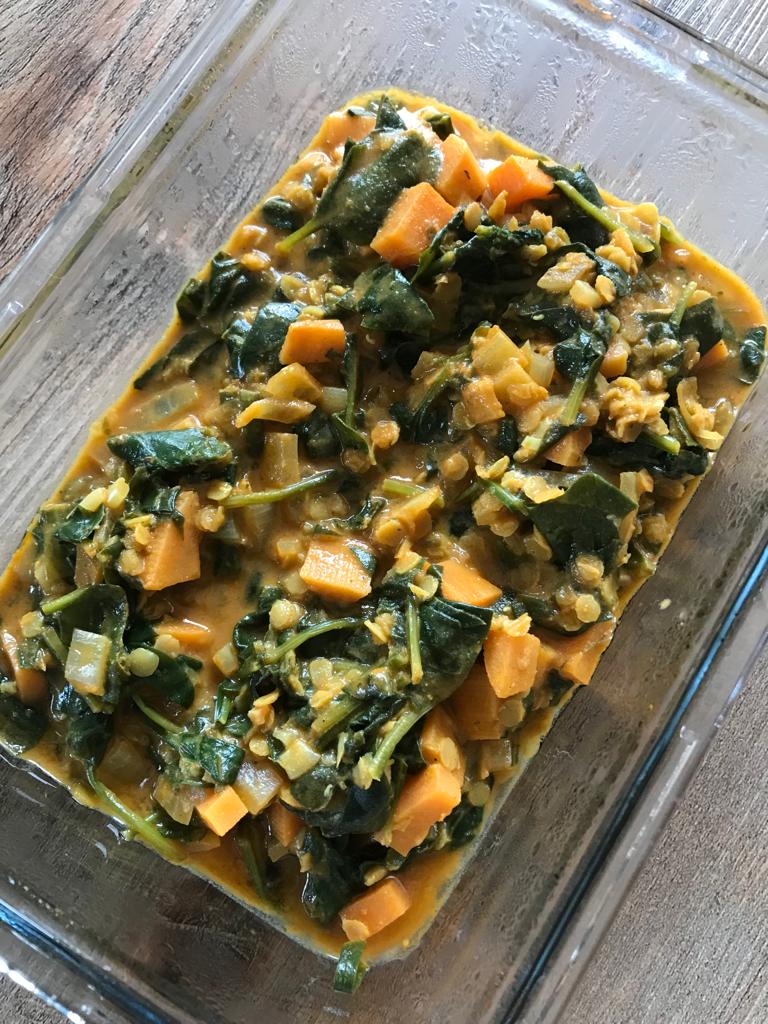 Bereiding:
Verwarm de olijfolie in een grote hapjespan (of wok) en fruit de uit 3 – 4 minuten. Voeg de gember, currypoeder en tomatenpuree toe. Roer goed en bak nog 2 minuten verder. Voeg de kokosmelk en de bouillon toe aan de  hapjespan en breng aan de kook. 
Voeg de zoeteaardappel (in klein blokjes) en de rode linzen toe en breng op smaak met peper en zou. 
Kook de dahl +/- 20 minuten tot de zoete aardappel en linzen gaar zijn. 
Rooster de pompoenpitten in een kleine pan zonder boter of olie (voor de afwerking).
Serveer met zilvervliesrijst of met brood.
Uitleg
Kokosmelk Gebruik in heerlijke soepen, romige currysauzen, smoothies, desserts en gebak. Deze melk kan schiften. Schud daarom goed voor gebruik, roer eventueel nog wat na. Kokosmelk bevat weinig koolhydraten en wel verzadigde vetten.